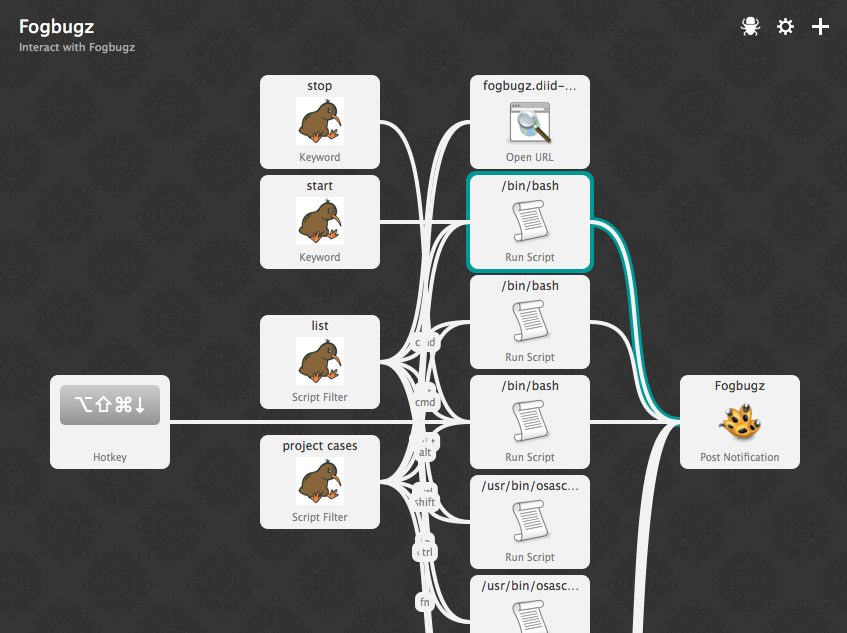 Available Commands
list

List active cases for configured user

start

Start work timer for specified case for configured user

stop

Stop work timer

estimate

Add estimate to specified case

elapsed

Add non-timesheet elapsed time to specified case

comment

Add a comment to the specified case

resolve

Resolve the specified case

projects

List all projects for configured user

project cases

List all cases for specified project
Set Up
In the fb_settings.py, change the token value to your token.
Go to this address: http://fogbugz.domain.org/api.asp?cmd=logon&email=USERNAME&password=PASSWORD
Use your username, not email for USERNAME. If your password has any reserved characters, you will need to find the appropriate code for them. For example, & = %26.
Install the Python module fogbugz with pip. pip install fogbugz
Command Line Usage
If you would like to just use the scipt in the command line, you can download it from GitHub.
python main.py [options]
-l [USER]

ex. `-l "Todd Waits"`
Returns all *active* cases assigned to specified user.

-w [CASE NUMBER]

ex. `-w 1304`
Starts work timer on specified case

-s
-e [HOURS] [CASE NUMBER]

ex. `-e 2 1304` sets case 1304 estimate to 2 hours
Sets estimate of specified case

-t [HOURS] [CASE NUMBER]

ex. `-e 1 1304` sets non-timesheet elapsed time for case 1304 to 1 hour
What ever number is entered will OVERWRITE the elapsed time for the specified case.
Does not affect timesheet time.
If the current elapsed time is 2 hours, and you write 1 (thinking you are adding 1 hour), you will overwrite 2 hours with 1.

-p [USER]

ex. `-p "Todd Waits"`
Lists all active cases assigned to Todd Waits in all projects, and displays them by project.

-c [COMMENT] [CASE NUMBER]

ex. `-c "Working on a bunch of stuff" 1304`
This will add the comment `Working on a bunch of stuff` to case 1304.

-r [CASE NUMBER]

ex. `-r 1304`
Resolves case 1304.